Do you need a notary in Montreal to draft a notarial power of attorney, general or specific (special)  for the bank, sale and purchase of a house, land, etc., in Quebec, other provinces of Canada or outside Canada (in the United States, Europe, etc.)? Contact at 438-383-3116 for power of attorney Montreal Mtre Leopold Lincà notary in Montreal (Quebec).There are two types of power of attorney (PofA): the general, given for all your affairs, and the specific, given for a particular purpose. Power of attorney – not to be confused with the Protection Mandate. 
What is a PofA (mandate)? In Montreal, Quebec? It is the document by which a person – the mandatory – can be appointed to act on your behalf; you just need to sign the power of attorney to designate the person who can act in your name in these situations.
The usefulness of a power of attorney – what is it?
Do you need to be hospitalized or are you going on a trip? Have you thought about appointing someone you trust to take care of your business for as long as you need it? Recognized by financial institutions, the notarized power of attorney is the legal document that allows you to achieve these ends.
Do you know that you can mandate a trusted person (designate a person of your choice) to take care of your property when you are away on a trip or other situation, to represent and act on your behalf? You just need to sign a document called the PofA or mandate to designate the person who can act on your behalf in these situations.
The PofA allows you to designate a person of your choice and in whom you trust (the proxy) to represent and act on your behalf, to perform one or more clearly defined act (s), and this, in circumstances established since the beginning.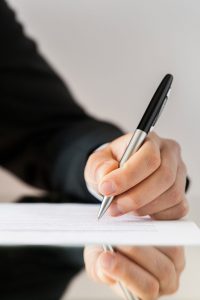 As its name suggests, the specific power of attorney allows your attorney to perform one or more specific acts on your behalf, while the general power of attorney gives extended powers to your attorney. However, both contain the conditions, circumstances and terms to be observed by your representative in the exercise of his functions. The PofA is a document prepared for you, according to your situation, and its content will depend on the objective.
Notarial Power of Attorney – The Most Guaranteed
The notarized PofA form is proved to be the safest of them. First of all, this form implies that you will get the help, advice and expertise of a notary, legal advisor to draft an official and unambiguous document. Also, the notarial deed is authentic. In other words, it's hard to challenge. Please also note that notarized PofA are the most widely recognized of all possible forms and that they are sometimes even required in certain cases and by certain institutions.
Finally, note that the original of the power of attorney is kept in the notary's vault, which is water and fireproof. In the event that you lose your copy, whether it is destroyed by water or fire or otherwise altered, your notary will be able to issue you another without problem. We also keep a digital copy of your document, so it is quick and easy for us to issue additional copies to you when needed.
The protection mandate
The general power of attorney should not be confused with the protection mandate. The mandate to protect in the event of incapacity is only used in the event of incapacity, once rendered incapacitated, and the mandate has been approved by a judgment, while the general power of attorney is used while you are still able to expressed your will, this condition being essential. As soon as you are declared unfit, the document is no longer valid and can no longer be used by your proxy.
Documents to provide during our first meeting
Two valid pieces of ID, at least one with photo
Marriage certificate
Wedding contract
Divorce certificate
Death certificate of the deceased spouse Social
Security number Social
Security number Other relevant document
We offer our services at your home, hospitals, residential center, residential, long-term center or elsewhere. Our travel costs to meet you are reasonable. We serve the following sectors: Boisbriand, Lorraine, Mascouche, Blainville, Repentigny, Rosemère, Saint-Eustache, Terrebonne, Brossard, North-Shore, South-Shore etc.
Contact us now!