Affidavit
What is an affidavit (declaration under oath / sworn declaration)? An affidavit is a statutory declaration made in front of a person authorized by law to administer an oath to you. So, what is an affidavit? In effect, the affidavit is a testimony, a written document in which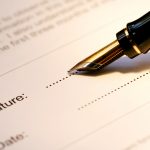 you swear that the stated facts are true. Such a document therefore engages your legal responsibility. Therefore, it should be written with great care. The affidavit can be used to formalize any statement, in various situations, when requested by any authority, or during legal proceedings.Take advantage of the expertise of your notary in Montreal, Mtre Leopold Lincà (services also offered for Laval, North-Shore, Longueuil, Brossard, South-Shore) to draft your affidavit, marriage declaration service – affidavit of marital status. The excellence of professional, personalized service!
WHO CAN SIGN AN AFFIDAVIT (DECLARATION UNDER OATH / DECLARATION SWORN)?
Anyone who is legally able to sign a legal document can, if necessary, sign an affidavit.
AFFIDAVIT OR SWORN STATEMENT?
The term "affidavit" in Quebec was officially replaced in 2016 by the expression "sworn declaration". In everyday language, however, it is still used a lot. You may be asked for an affidavit, but by law it is a sworn statement.
HOW TO MAKE AN AFFIDAVIT (DECLARATION UNDER OATH / DECLARATION SWORN)?
There are three criteria to be met:
1.You must identify yourself, indicating some of your personal information.
2.You must state the facts and information that you are officially stating.
3.You must obtain authentication of the affidavit by the person authorized by law.
WHY CONSULT A NOTARY FOR YOUR AFFIDAVIT (DECLARATION UNDER OATH / DECLARATION SWORN)?
Through his legal expertise, the notary will help you obtain an official document that meets the requirements of the law. Due to their status as legal professionals, all notaries have the status of public officer and can receive your sworn declaration. The notary who receives your declaration does not, however, have the mandate to validate the accuracy of the information given, it is your responsibility to declare the truth. Your notary will help you obtain an unequivocal statement, respecting the accuracy of the facts and not including contradictory information. Thanks to his experience in drafting the affidavits, you will be better protected.
Some examples of situations requiring an affidavit:
The minor child travel affidavit (declaration under oath / sworn declaration)
An affidavit is often required by Canadian and foreign authorities, for the protection of children under the age of 18 who travel abroad without their two parents, to counter any possible situation of human trafficking, conflict situation in the context of shared custody, etc. A parental authorization letter will facilitate passage through various customs and allow you to travel in peace!
Affidavit for non-residents – letter of invitation to obtain a visitor visa
Whether it is your family, friends or business partners, if you wish to receive people from overseas, government authorization / visa may be required before they are allowed to enter the country. You can then write an affidavit, a letter of invitation, so a sworn statement that may indicate the reasons for the trip, length of stay, the links between you and your guest, etc. Thanks to our expertise in the matter, we will help you produce a document that will facilitate the necessary legal procedures!
DO NOT HESITATE TO CONSULT A NOTARY WHEN YOU NEED A SWORN STATEMENT. CHOOSE THE EXPERTISE OF ME LEOPOLD LINCÀ NOTARY TO WRITE YOUR AFFIDAVIT (DECLARATION UNDER OATH)!